Life with Lupus: Manage Your Condition, Avoid Flare-Ups, Control Symptoms, and Adhere to Your Medication with MyTherapy
Systemic Lupus Erythematosus (SLE) Is a Chronic Disease That Requires Lifelong Treatment. If You Have SLE, You Are Able to Live a Normal Life If You Adhere to Your Treatment Regimens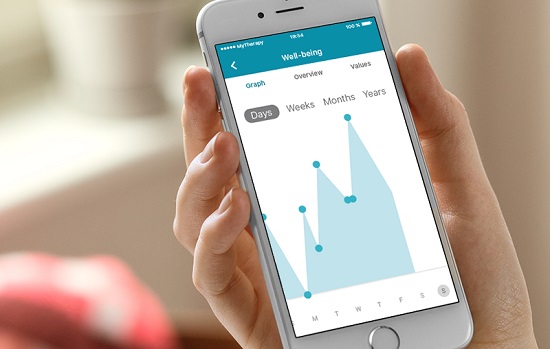 Systemic lupus erythematosus (SLE) is an autoimmune disease and is the most common type of lupus. When people refer to lupus, they often mean SLE. SLE has phases of worsening symptoms followed by periods of mild symptoms. Although it is a serious condition, it can be managed effectively with the right medications and treatment plan. As with many long-term health conditions, patients can make a huge difference to their overall well-being and health by actively managing their lupus treatment and adhering to their medication. In this regard, smartphone health apps can provide valuable support. For example, MyTherapy, a medication reminder and health tracker app developed by smartpatient, helps you, the patient, adhere to your medication regimen and allows you to document your symptoms. Although medication currently cannot cure SLE, taking the right pills at the right time is important for alleviating and managing symptoms and preventing long-term damage. If you have lupus, you may be required to take drugs like hydroxychloroquine, corticosteroids, and benlysta. MyTherapy generates reliable medication reminders, ensuring that you never forget to take these life-saving medications. Moreover, the app also includes a comprehensive health diary that can help you and your doctor track symptoms over several weeks and establish your pattern of SLE.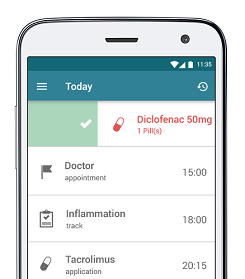 So how does the app work? MyTherapy converts your SLE medication and treatment plan into a simple to-do list. All you have to do is upload your medication data by either scanning the barcode of your medication packaging or searching for your medication in the app's built-in database. MyTherapy will then remind you of your scheduled medication and this alarm function can also be used to remind you of upcoming doctors' appointments. Furthermore, you can change the times of the alarms on weekends, meaning that the app is tailored to your lifestyle and schedules. It doesn't matter how complex your regimen is - MyTherapy is designed to handle it and give you peace of mind. You will be reminded to take your medication via an alarm (which can be set to silent or vibrate) and pop-up notifications.
As mentioned above, you can also monitor your symptoms and record any measurements that may be of importance to you (such as weight or blood pressure) with the app's health journal. You can also record lab results and set personal health goals. This health journal, along with other data you've recorded, can be printed out and given to your doctor, allowing him/her to assess how you are doing. In this way, you can work closely with your doctor, ensuring that you get the best out of your medication and treatment plan.
MyTherapy abides by strict privacy laws so you do not have to worry about your data being unprotected. You can also protect your information on your phone by setting a passcode (or fingerprint scanner) so that only you have access to the app. Furthermore, the team at smartpatient is dedicated to improving the app and ensuring that it remains user-friendly and contains everything you need to help you live with your condition.
Systemic Lupus Erythematosus (SLE) and Lupus: What's the Difference?
Systemic lupus erythematosus (SLE) is a chronic disease that causes inflammation in various parts of the body. It is an autoimmune disease, meaning that your immune system attacks your own tissues and organs. With SLE, the inflammation affects many different body systems, including the skin, joints, brain, kidneys, heart, and lungs.
SLE is often referred to as lupus, but strictly speaking, lupus can also refer to various types of conditions that may be different from SLE. For example, discoid lupus erythematosus and subacute cutaneous lupus erythematosus only affect the skin.
According the the Lupus Foundation of America, at least 1.5 million Americans are living with lupus although this figure may be higher as many people remain undiagnosed. About 5 in 10,000 people are affected by SLE in the UK. More than 90% of cases of SLE occur in women and it can occur at any age.
Difficulty with Diagnosis
The symptoms of SLE can vary from mild to severe and depend on what organs or tissues are affected. Joint pain and swelling are experienced by almost all SLE patients. Other common symptoms include:
Fatigue
Chest pain
Blood in the urine
Headaches or migraines
Mild anaemia
A characteristic red rash over cheeks and nose – a so called "butterfly rash" – or other skin rashes
Sensitivity to sunlight
Poor circulation in fingers and toes
Mouth ulcers
Hair loss
Swollen lymph nodes
Because these symptoms are similar to symptoms of many other diseases, SLE is difficult to diagnose. There is no single test confirming SLE. Instead, doctors make informed diagnoses by doing physical examinations and conducting various screenings, such as blood tests, urinalysis, and chest X-rays.
The Exact Causes of SLE Are Not Clear
It is not clear what causes autoimmune conditions, but it is thought that a combination of genetic and environmental factors can trigger SLE. In terms of genetics, there are no definite genes linked to SLE. However, people are more likely to get the condition if one of their family members is affected. Environmental factors that could play a role in the disease include ultraviolet rays, certain medications, infections and viruses, traumatic events, or other types of stress.
Managing SLE with Medications
Unfortunately, there is no cure for SLE, but it is more than possible to control the disease, relieve the symptoms, and prevent organ damage with different types of medication. Some of these medications include:
Non-steroidal anti-inflammatory drugs (NSAIDs), which are also known as anti-inflammatory painkillers. These include Ibuprofen, Naproxen and Diclofenac. They are often prescribed to ease joint pains or muscle pains. The most common side effects involve the stomach or gut. However, other medications can be prescribed to protect these organs from the possible side-effects.
Hydroxychloroquine improves skin problems, fatigue, and joint pains. Side-effects are not commonly observed.
Corticosteroids may be prescribed to deal with the more severe symptoms of SLE. They reduce inflammation, but may cause side-effects such as osteoporosis or high blood pressure.
Immunosuppressants such as benlysta (Belimumab) may be necessary for more severe forms of SLE. They suppress the immune system, which eases many symptoms of SLE. However, they do increase the risk of infections and must therefore be monitored carefully.
Life with Lupus and MyTherapy
With a combination of medications, the outlook for SLE patients has drastically improved over the years and patients can now live normal, productive lives. However, for this to be possible, it is vital to adhere to medication and treatment plans, which can be a daunting task for many people. This is what the MyTherapy app was designed for. Its reliable reminders and simplified to-do-lists ease the burden of taking medication regularly. Furthermore, the built-in SLE / lupus health diary gives you and your doctor the opportunity to track symptoms of the disease over an extended period of time, making it easier to adjust your treatment plans and establish a pattern of the disease. MyTherapy also helps you remember your appointments so that you do not have to worry about missing arrangements with your doctor or other healthcare providers. The combination of these functions and the pleasant user-interface make MyTherapy a valuable companion in managing SLE.