On February 4th – World Cancer Day – roughly 4,700 people in the USA will be diagnosed with a form of cancer. In 2030, this figure is estimated to rise to over 6,300, meaning 2.3 million people will be diagnosed over the year. The trend is far from unique to the USA; the number of new cancer cases worldwide in 2030 is predicted to be 50% higher than it was in 2012. While these figures may appear daunting, good news can be found in the form of survival rates, which have steadily improved over the last four decades. As they continue to do so, and as the average age of those living with cancer increases, what does this mean for the future?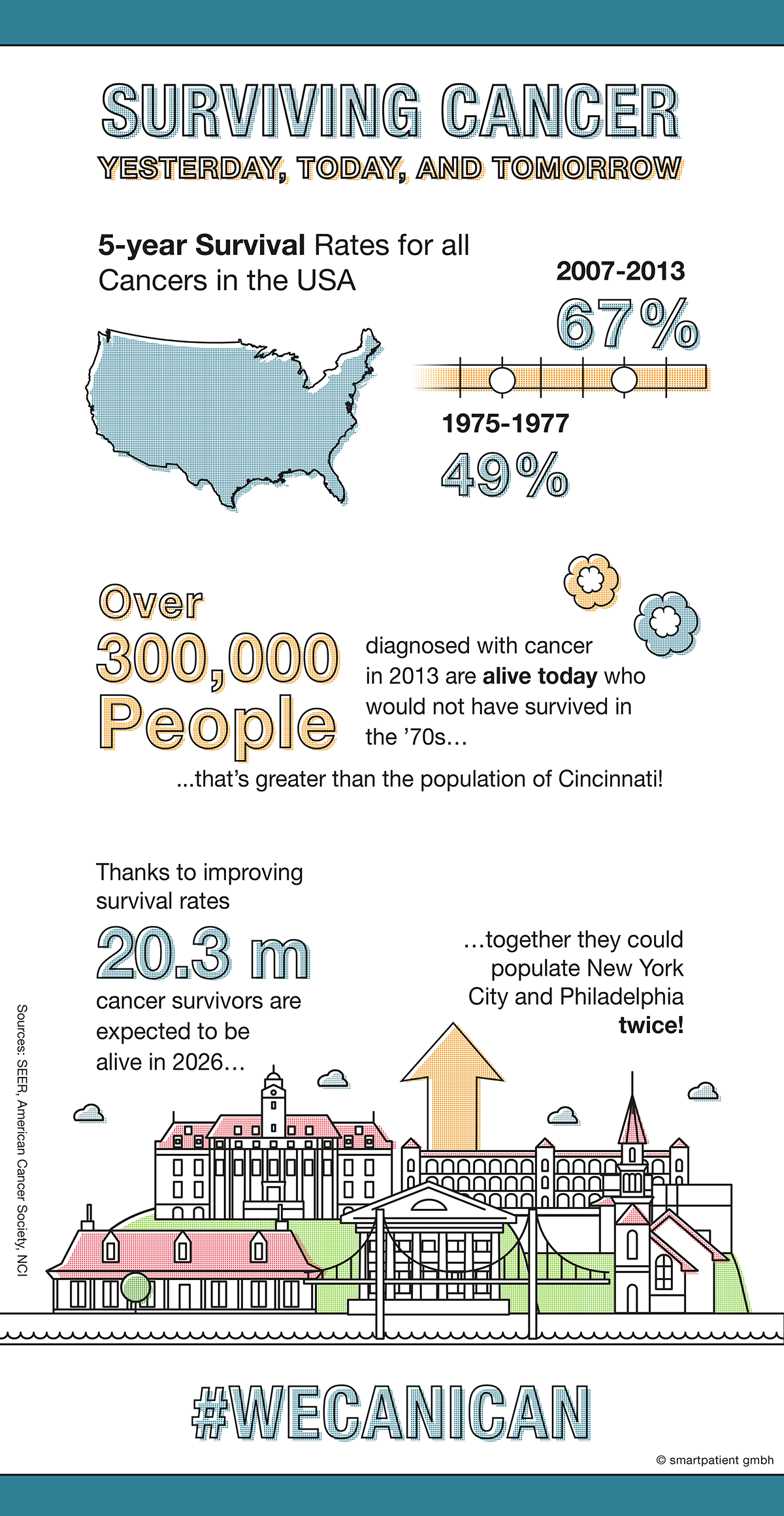 Surviving Cancer: The Past
It's January 1st, 1975. In the coming year The Fall of Saigon will bring an end to the Vietnam War, Muhammed Ali will defeat Joe Frazier in the final bout of their trilogy, and 400 out of every 100,000 people in the USA will be diagnosed with cancer. Those diagnosed with lung cancer are part of an upwards trend that started in the 1930s, caused by smoking, that makes lung cancer the deadliest in the country. The five-year survival rate is just 12%.
The five-year survival rate for all cancers combined stands at 49%. At one end of the scale, just 3% of those with pancreatic or liver cancer will live into the '80s. At the other, 92% of those diagnosed with thyroid cancer will live long enough to witness Ronald Reagan oust Jimmy Carter as President.
All these figures are a significant improvement on the 1950s, when only one in four people diagnosed with cancer would live a further five years. These improvements are attributed to earlier – and more localized – diagnoses, a higher rate of people being treated within four months of diagnosis, and the increased use of chemotherapy.
1975-2018: What Has Changed?
The most notable trend between the 1970s and the present day was the previously mentioned rise of lung cancer, particularly in men. It is an anomaly that stands out with even a cursory glance at any graph or chart depicting cancer trends over time. However, when placed on a graph depicting tobacco usage, the link is intrinsic – albeit with a 20 to 30-year delay. As a result, while the popularity of smoking peaked in the early to mid-'60s, lung cancer death rates were greatest in the early '90s. Death rates have declined year-on-year since, but lung cancer remains the deadliest form in the USA, accounting for 26% of all cancer-related deaths, and is the most common invasive form that both men and women are susceptible to.
Another notable trend is related to prostate cancer, the 5-year survival rate of which has jumped from 68% in 1975-77, to a remarkable >99% today. This is largely down to the hotly-debated prostate-specific antigen (PSA) test, which is able to flag signs of prostate cancer, even when no symptoms are present. While this sounds entirely positive, it has been argued that it has led to over-diagnoses, meaning men have been treated for slow-growing prostate cancer, even when it presented no threat. Such cases artificially inflate survival rates. The PSA test is no longer recommended for all men annually, and in recent years incidence have declined as fewer tests are performed. It remains the third highest cancer-related cause of death, behind lung and colon, for men.
For women, breast cancer is the most common , accounting for almost one-third of new cases. The five-year survival rate has risen from 75% in 1975-77 to 91% today, thanks largely to improved detection and treatment capabilities.
Overall, the five-year survival rate for all cancers now stands at 67%. Were you to apply the 1975-77 survival rate to the 1.66 million people diagnosed with cancer in 2013, 300,000 fewer would be alive today.
---
Other posts you may be interested in on the MyTherapy blog:
---
Surviving Cancer: The Future
Predicting the future of any disease is a difficult task, but it seems certain that number of cancer cases diagnosed each year will continue to increase. In 2018, the figure is expected to be 1.735 million. There are a wide range of reasons why cancer rates are increasing, chief among which is the age of the population rising. Age is a key risk factor for cancer, and by 2060, nearly one-quarter of the population is projected to be 65 or above, compared to 15% in 2014. As this increase occurs, so too will the prominence of cancer.
Lifestyle trends also play a key role. While reduced tobacco usage has helped stem and reverse the rise of lung cancer, obesity is moving in the opposite direction. In 2015, cancer experts speaking at the American Society of Clinical Oncology (ASCO) conference warned that, while smoking is riskier on an individual level, the prominence of obesity may soon make it the number one preventable cause of cancer across the country. Excess weight, poor diet, and lack of exercise have been linked to some of the most common cancers, including breast, prostate, and colon.
While the forecasted increase in incidence rates suggests cancer will remain an enormous healthcare issue for the foreseeable future, positive news comes in the form of ever-increasing survival rates. Early detection massively increases the chances of survival – improved and more readily available screening methods have been key in bettering survival rates over the years. There is still room for improvement, of course, particularly for low-income groups and ethnic minority demographics.
As well as improving access to detection, developing new techniques is an area of intense research. On the other side of the Atlantic, a team at John Hopkins University, in the UK, are working towards a universal blood test for cancer. Such a simple and inexpensive test could have a dramatic affect on survival rates in the coming years and decades.
All things considered, it is estimated that 20.3 million individuals with a history of cancer will be living in the USA in 2026.
The theme of World Cancer Day is #WeCanICan, designed to encourage collective and individual efforts in the fight against cancer. On a community level, groups can help spread information and education about the risks of an unhealthy lifestyle, encourage schools and workplaces to support healthy habits, and call on governments to commit resources into cancer prevention and treatment, as well improving accessibility to such services.
On a personal level, each and every person can make changes to their lifestyle – little or large – that can help mitigate the threat of cancer. Eating healthier, committing to more physical exercise, and being safe in the sun are all hugely beneficial in helping avoid cancer, not to mention a plethora of other serious health conditions.
Of course, nothing can completely protect one from cancer, so being aware of the symptoms and acting quickly can help detect cancer as early as possible, thus increasing the chances of survival. Accordingly, one of the goals of World Cancer Day is to educate people about the warning signs, and what to do when they are spotted.
These are just a few of the steps we can all take in helping tackle cancer, and more information can be found on the official World Cancer Day website.
In the long run, such efforts will help ease the burden of cancer on the healthcare system and save lives, both in the USA and beyond.
---
Take a look at some of the other posts on the MyTherapy blog: