The original recall of valsartan was issued because batches were discovered to have been contaminated by a substance believed to cause cancer. Since then, more information has come to light and other medications, including batches of losartan and irbesartan, have also been recalled.
This article was last updated on 04 April, 2019
---
All of the latest information regarding the valsartan recall can be found here: Valsartan Recall: Latest News About Hypertension Drugs Recalled by FDA & EMA
---
IMPORTANT: Continue Taking Your Meds
If you ARE taking valsartan, losartan, or irbesartan affected by the recall:
If you are taking valsartan, losartan, or irbesartan, you can check the list published by your country's drug authority to see if your particular medication in being recalled.
Even if you are taking medication that is being recalled, please continue to take your medication as normal unless otherwise instructed by your doctor or pharmacist.
The risk posed by abruptly stopping your medication may be greater than the risk posed by the contamination.
Speak to your doctor or pharmacist as soon as possible, who will be able to advise you on your treatment and prescribe an alternative if necessary.
Which 'Sartans' Being Recalled?
Valsartan falls under a class of medication called angiotensin II receptor blocker (ARBs).
Other drugs in this class are:
losartan
candesartan
azilsartan
eprosartan
irbesartan
telmisartan
olmesartan
The names refer to the active ingredient in the medication, so you may be more familiar with the brand names.
For example, valsartan is most commonly sold under the brand name Diovan and losartan is most commonly sold under the name Cozaar.
Initially, only products containing valsartan were recalled. In the months that followed, batches of losartan, and irbesartan products were also found to have impurities.
Why Are Batches of Valsartan, Losartan, and Irbesartan Being Recalled?
In July 2018, valsartan produced by a Chinese pharmaceutical firm was found to be contaminated with a probable carcinogen (a substance that causes cancer).
Zhejiang Huahai Pharmaceuticals voluntarily informed the European Medicines Agency (EMA) that the impurity, N-nitrosodimethylamine (NDMA), had been detected in the manufacturing process.
---
Read more about the valsartan recall:
---
Zhejiang Huahai provides valsartan to companies around the globe that use it as the active ingredient in hypertension medication.
23 countries initially announced recalls: the UK, Germany, Norway, Finland, Sweden, Hungary, the Netherlands, Austria, Ireland, Bulgaria, Italy, Spain, Portugal, Belgium, France, Poland, Croatia, Lithuania, Greece, Canada, Bosnia and Herzegovina, Bahrain, and Malta.
In the following days other countries followed suit, including the USA when the Food and Drug Administration (FDA) recalled numerous products containing valsartan.
The contamination is believed to date back to 2012.
Since then, two further impurities similar to NDMA have been discovered. Batches of at least two other ARBs, losartan and irbesartan, have been recalled due to contamination
What Risk is Posed to People Taking Valsartan, Losartan, and Irbesartan?
Both the FDA and European Medicines Agency (EMA) have released statements indicating that the contaminations pose a low risk to people taking valsartan, losartan, or irbesartan.
Eric Althoff, a spokesman for the company who initially developed valsartan, Novartis, said, "the amounts of NDMA found in valsartan are much lower than the cumulative endogenous production and usual external exposure of NDMA."
The Medicines and Healthcare products Regulatory Agency (MHRA), a British government agency responsible for drug safety, also suggested the contamination posed a "low risk to public health."
NDMA is a by-product of various industrial processes, including rubber manufacturing, leather tanning, pesticide manufacturing, food processing, foundries, and dye manufacturing. It also occurs through the degradation of a component used in the production of rocket fuel.
The risk posed to humans is largely based on research performed on animals.
The World Health Organization (WHO) says there is "conclusive evidence that NDMA is a potent carcinogen in experimental animals" when ingested through drinking water.
There is no conclusive evidence this is the case for humans, hence NDMA's classification as a probable carcinogen.
---
Help spread the word. One in three people live with high blood pressure (hypertension), so even if you don't have it, you know people who do.
It is possible they are taking valsartan, losartan, or irbesartan and may be affected by the recall.
We have therefore produced the infographic below. By sharing it on social media, you may help make someone you know aware of the recall.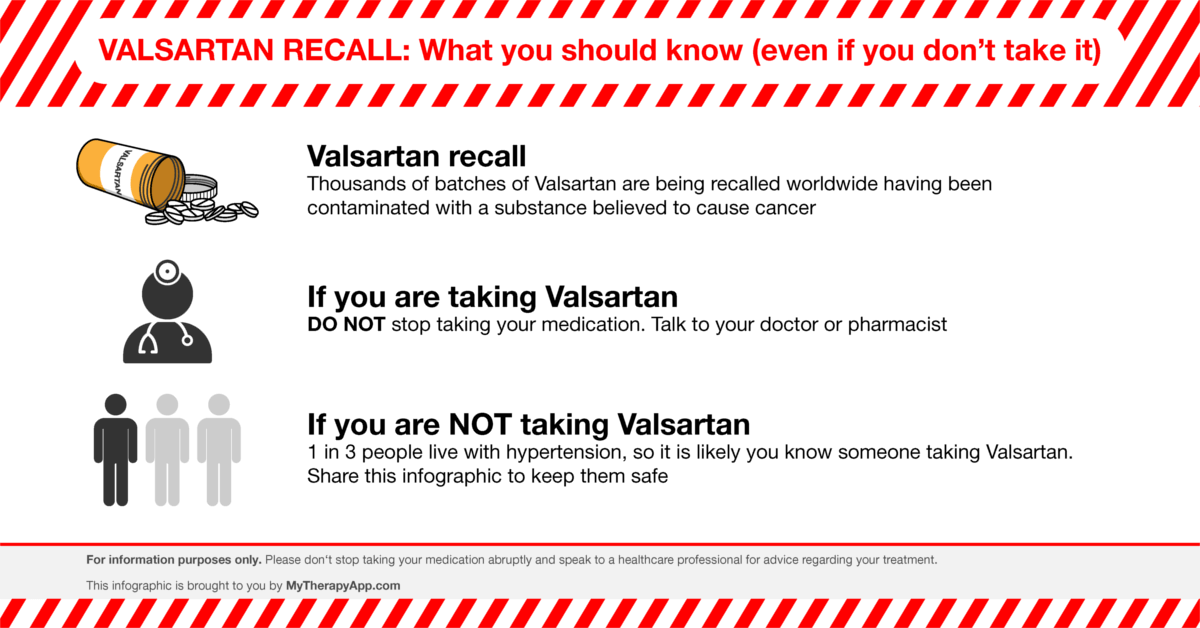 ---
Take a look at some of the other posts on the MyTherapy blog:
---
While we hope the information in this blog post is useful, please do not use it as a replacement for professional advice. If you have any concerns regarding your treatment, speak to your doctor, pharmacist, or healthcare professional.